To submit your comments please e-mail them to: FGainesiii@aol.com
Dear Downtown Dothan Magazine,
MINIATURE TRAIN BECAME A CHILD'S MEMORY LANDMARK!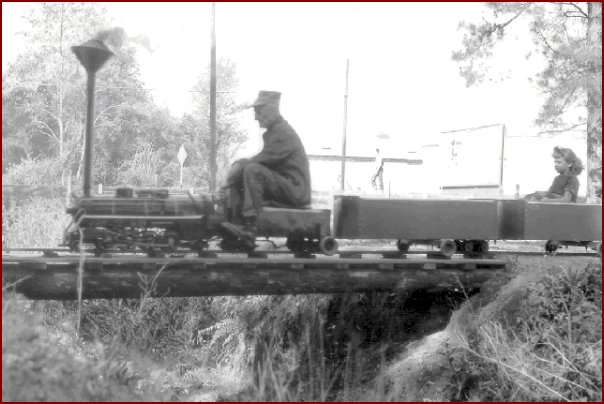 Dear Downtown Dothan,

I was so delighted to view the old photos of my grandfather Bartow O. Dick and his train, "The Golden Rocket" on your web site. These are pictures I have never seen. Can you tell me the origin / owner of the old photos?

I also enjoyed reading Danny Lewis' memories of my grandfather and his train. What fond memories I had of that train! My grandfather built miniature steam trains for amusement parks. This smaller steam train ran on a smaller track in the backyard of his home in Brundidge and later, in Dothan. After retirement, he moved to Dothan in 1950 and set up a track in the park at the Rec Center, at the south end of DHS. He expanded the track twice while there, and charged a dime to ride. Many times I would drive the train so he could take a break.

In the late 1950's, the State of Florida contracted with him to build a larger steam passenger train for the Marianna Boys School. The large train ran on a 1/4 mile track near the ball field. The school also hired my grandfather to teach the boys the art of engineering and building. He ran the train on holidays during the year, which attracted many visitors. After my grandfather died, the large train was put in storage at the school, where it remained for several years. The school donated the train to the Marianna Optimist Club a few years ago. After being in storage for so long, the train needed restoration which was done by Thomas Grainger. The City placed the train on a large track in the park next to Marianna High School on Caverns Rd. A depot was built to house the train from the weather. Thomas Grainger currently runs the train on holidays during the year. Our family met with him and the Optimist Club has offered to give our family a dinner and free rides on the train soon.

In the 1960's, Bartow sold his small train, "The Golden Rocket", to a man in VA. Through rumors, we heard the little train ended up at an amusement park in Orlando, FL. near Disney World. We, as a family, have tried to locate the train for several years in order to buy it back. Ads placed in magazines brought us two leads, neither of which were successful in locating the train.

My grandfather went to visit his sister in Valdosta and was returning to Dothan on March 30, 1972. He was traveling in his new Chevy Nova on Hwy. 84, west of Donalsonville, GA., in a driving rainstorm. His eyesight was poor so we are certain that his guide was the white line on the side of the road. That line led him directly into the abutment on the east end of the Chattahoochee Bridge at Jakin, GA., which led to the car accident that took his life. The impact of the steering wheel crushed his chest. Bartow Dick, the son of James Whaley Dick and Mollie Ward, was born and raised in Dale Co., AL. He married Barbara Shipman from Clio, AL., a cousin of Gov. George C. Wallace. Bartow and Barbara had eight children, three of whom remained in Dothan.

Do you have an e-mail address for Danny Lewis? I would enjoy corresponding with him about the train, and have some extra info and photos that may interest him. I have five articles, complete with photos, from The Dothan Eagle and The Montgomery Advertiser, on my grandfather and his trains. I also would be interested in knowing the owner of the photos of my grandfather on this web site.

Many thanks for sharing the pictures. Your web magazine is amazing and such a tribute to our wonderful hometown of Dothan. Thanks for the memories!

Judi Hayes

My oh my what memories this black and white photo brought back for me!

I can't begin to estimate how many timns I rode on that train at the rec center park as a youngster. I think it cost a quarter to ride.

The owner/engineer was a man whose last name was Dick. I can't recall his first name right now but I know he lived over near Coleman's Pond not far from the rec center.

The train was coal fired and was set up at the park two different times, once when the trestles across the ditch had the wooden beams shown in the photo and again later after concrete slab bridges had been installed there.

I remember Mr. Dick teiling my late Dad that he almost got killed while laying track for the tran when lightning struck a tree nearby and jolted him too.

I talked with my Mom about the train after getting the photo and she said Mr. Dick, was killed in a car wreck many years ago over near the Chattahoochee River.

He had sold the train by then and Mom said he almost went crazy after selling it. She said he hadn't thought that his family might want to keep the train for his grandchildren and the person he sold it to refused to sell it back to him.

If I come up with any more information, I will let you know.

Thanks for the great memories!!!

Danny Lewis


Dear Downtown Dothan Magazine,
PROBLEMS PLAGUE DOWNTOWN
Safety
Inadequate Parking
Insufficient diversity in types of business
Vacant, abandoned/dilapidated buildings in the core area
Lack of support from the community
Lack of entry points to core area
Financial funding
Downtown leadership
The Downtown Group in cooperation with the City of Dothan, Houston County Commission and Dothan Area Chamber of Commerce compiled a participatory plan and design chart for Downtown Dothan, Alabama on November 10-11, 1989. Somewhere this plan has fallen through the brick sidewalk cracks in the Historical District.
Summarized in the plan, "Downtown as a whole is more important than the ego or business of any one person. Mutual participation and support are essential to success."
"Prepare and implement an annual strategic plan for the Downtown Group so that supporters know what is to be accomplished, each year and by whom."
Quotes from the Past:
Fall 2003 – DTG – "By first of 2004, definite plans will be made to the next actions we will take to work toward betting downtown."
6/3/05 – Bill, "It is really sad to see what has happened to downtown Dothan."
6/15/05 – Pat, "I have plans for downtown."
6/16/05 – Donna, "I'm still trying to work on downtown."
8/23/05 – Lawrence, "What the hell happened to downtown over the years?"
3/15/06 – Danny, "The Envision Strategic Plan does include support of downtown revitalization."
3/25/06 – Ken, "It will take planning …"
If commissioners approve a consultant to come and make suggestions for changes, downtown will be the first stop. "It's an attempt to say, okay there's been a lot of talk about downtown Dothan in the past, what can we do now so we can finish?" said Dothan City Manager Mike West.
The consultant who's been instrumental in revising other downtown cities will develop a comprehensive strategy. That strategy will focus on such things as redevelopment, structure design and even landscape.
The price tag for bringing him, Craig Watson of HNTB Corporation, to Dothan is a little more than $100,000. So far, $33,000 has been raised. He was hired and where did the $100,000 come from? Who raised the first $33,000?
Sincerely,
N. H. Talmage

Dear DowntownDothan;
First, I'm crazy about your website. Even though I'm not in Dothan full time (I maintain a home in Atlanta and one in Dothan), my heart is in Dothan.

For years my Grandmother ran a small apartment house on North Foster Street, so I spent a great deal of time in downtown Dothan as I was growing up. I have very fond memories, but also have watched the downward spiral as malls were built and businesses moved from downtown to outlying areas.

I've always felt this move away from downtown was unfortunate, where everything was once centrally located it is now spread out. But, that's the way things are in all cities of Dothan's size, so there's no point in looking at how things used to be and wishing it could be that way again—it simply won't happen.

If I've learned anything about business all these years, I've learned this. That is, you learn what the public wants before you sell them something, otherwise you're setting yourself up for failure. Even though the public doesn't choose to shop in a downtown area any longer doesn't mean there is no use for downtown Dothan.

Many cities have done terrific things with their downtowns and once they were built—the people did come. I can easily envision downtown Dothan becoming a more urban area where the open spaced buildings could be converted to lofts. Personally, I don't see the allure of loft-living, but many will pay top dollar to live in the wide open space, so here again, there is interest in the general public. Once you get people downtown the next logical step is to build businesses to provide comfort and value to the people living there. Then, capitalism takes over and a local economy begins to flourish. And, once the economical flourish begins then the streets sprawling away from downtown that are lined with amazing historic homes will be purchased by young marrieds and renovated to their original splendor.
This sort of thing is happening all-over, but the first step is to get the people downtown and then let building and growth go on automatic pilot.

Another interesting idea is a "rails to trails" program. There is where long unused railroads are converted to paths designed for pedestrian, bicycle, skating and/or light motorized traffic. With all the unused railways in Dothan wouldn't be terrific to see these converted?

In short, revitalization can mean something new and interesting rather than recreating a long forgotten past that has little use in the modern world.

Thank you and kind regards,

David Zack Holmes

How Many More Times???

How MANY more times are we going to attempt revitalizing downtown Dothan???

We have lived in Dothan since August 1969; and, I know that I have witnessed 3-4 times that we have spent taxpayers money to attempt this! Everytime I see it come up in the papers again and again… I say, "I need to voice my opinion." Well… here goes!!! It is completely irresponsible of our mayor, commissioners, businessmen, etc. to keep spending the citizens of Dothan's hard earned money to try to rebuild downtown Dothan. I will not support or vote for one more elected official who supports this idiotic project.

Only the businessmen and a handful of others, who have offices in downtown Dothan or who have historical interests downtown, are the ones who continually talk of "rebuilding downtown Dothan". I wholeheartedly support the historical part of this; but, we don't have to spend money on another "umpteenth" study, consultants, engineers, etc. on this!

We have a beautiful historic district already; and, for that I am very proud! As for the few businesses and offices downtown… "I say, "Fine!" I know where they are if I need them. But, why do we have to rebuild downtown again and again and again??? Have we gone absolutely mad??? Where is the sanity in this??? I don't EVER recall getting to vote on this issue and it is a big one. How about let's putting "rebuilding downtown Dothan" to a vote? How about it???

Hurrah for the mayor or commissioners, whomever they might be, who brought up the subject of a new library for the Dothan area!!! Hurrah!!! This is the most intelligent suggestion that I have seen in a loooooooooong time! We certainly DO need a new library. This one is so old, so poor, so underfunded, and on and on… It also offers wonderful services despite their pitiful budget and their dire needs. We have overlooked the library for much too long! It is time for all of us who believe that the library is an integral part of our citizens' education to write in to this column and just simply say… "I support the idea of a new library for Dothan/Houston County."

Mrs. Ceya Minder
Dothan, AL